Texas Recovery and COVID-19 Relief Update
We continue to recover from the aftermath of the winter storms that swept our state and left many without electricity, heat, and water. It is important that if you and your family are in need of help that you get it. If you live in the Austin area, please find available resources here. You may also apply for disaster recovery assistance through the Texas Division of Emergency Management by clicking here. If you and your family need to apply for FEMA's Individual Assistance, please visit their website here.  

I have been staying up to date on the available resources and working to stay on top of what is needed from Washington, D.C. to further assist Texans during this time. This week, I had calls with Mayors, Judges, and First Responders to receive updates on the resources and services available on the ground. My priority will always be to make sure TX-25 has resources to get back on their feet after disaster strikes.
COVID-19 Relief
President Biden and the Democrats have been pushing their partisan COVID-19 relief package. This week, House Democrats passed a $1.9 trillion relief bill filled with liberal wish-list items that have little to do with providing the immediate and necessary relief for struggling Americans and small businesses. The bill directs 91% of relief funds to a progressive wish list, including bailouts for blue states, funding for Planned Parenthood, and a $15 minimum wage mandate. Less than 9% of the relief bill goes to critical COVID-19 health spending such as a national vaccination program, tracking, testing and resources to reopen schools. I voted no on this COVID-19 relief package. I am proud to work alongside my Republican colleagues to provide real relief to hard-working Americans and businesses who are doing all they can to survive the COVID-19 pandemic, not Nancy Pelosi's efforts to please the far left in her caucus.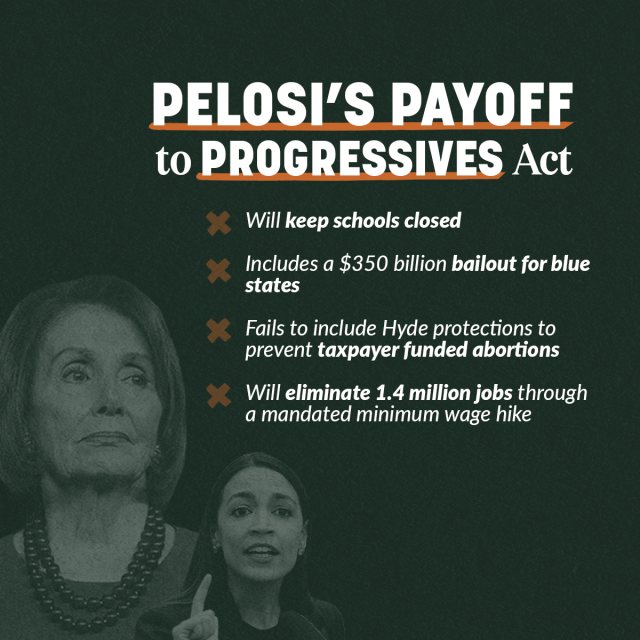 Democrats also continued their assault on conservative policies, rejecting two amendments I proposed to prevent taxpayer dollars from being spent on abortions, and mandating the Small Business Administration (SBA) to prioritize discharging funds meant for music venues under the Special Venue Operator Grant (SVOG).

Congressman Williams' Amendments Rejected by House Democrats: 

Amendment #1 prohibits Planned Parenthood, or any of their entities and affiliates, from eligibility and thereby the use of funds from the Paycheck Protection Program. No tax dollars should ever be spent performing the horrific act of abortion, and Congress must make clear that Planned Parenthood is ineligible for PPP funds before the Biden administration takes action to have them included.

Amendment #2 Directs the Administrator of the SBA to prioritize any existing uncompleted rules or guidance stemming from the Economic Aid to Hard-Hit Small Businesses, Nonprofits, and Venues Act (P.L. 116-260) before doing so for any rules, guidance, or expending amounts appropriated, to carry out a statutory program enacted on or after January 1, 2021. The Shuttered Venue Operators (SVO) grants were signed into law thanks to my bipartisan Save our Stages Act. The SBA has still not released SVO application guidance though the program was signed into law by President Trump nearly 6 weeks ago. We must not start new programs until we can execute the terms of existing ones.
As your voice in Congress, I'll work every day to put Texans first by fighting back against these dangerous policies that put our communities in jeopardy.

In God we trust,

Roger Williams
Member of Congress